Wines and Champagne Tatsing
A passion that we invite you to share...
Wines lovers for many years, we invite you to simply share the pleasure of tasting, a glass or a bottle, among the selected wines during your stay.
We regularly organize tasting of white , rosé red, sparkling or still wines from various wine areas.
Permanently a tasting of Vendée wines is proposed .
Different vintage of appellations are available, so that vertical tasting is also possible ; a rewarding experiment.
Wines tastings from our selection "à la carte" is also possible.
Check our newsto see the tastings of the moment!
The Nez du vin box® box is also avalaible to help you, in a funny way, to recognize the wines ' flavours.
We are not oenologists, simply passionate about wines. We can give you some basic advices, especially for food/ wine pairing.
Choose Wine tasting at your liking convenience
• A glass of  wine in your bedroom among our daily offer is possible

•Tasting possible alone or shared with us in our tasting area , on the terrace, veranda or in the louge area.

•Wine tasting could be accompanied by charcuterie and/or cheese plates.
Pick up your favourite wines
We have patiently selected for 20 years our wines ( rosé white red still or sparkling) through participation of specialized exhibition or more oftently during visits in different French wine area, meeting the wine maker.
Ces vins proviennent essentiellement de vignerons indépendants. 
You will find , in our cellar, 1 or 2 refernce sof the main AOC from Alsace, Bourgogne, Vallée du rhône , Bordelais,… and several Italian wines.
More particular concerning the champagne for which a dozen wines are waiting for you, and the fiefs vendéens , local  wines, that have caught our attention (and our palate!).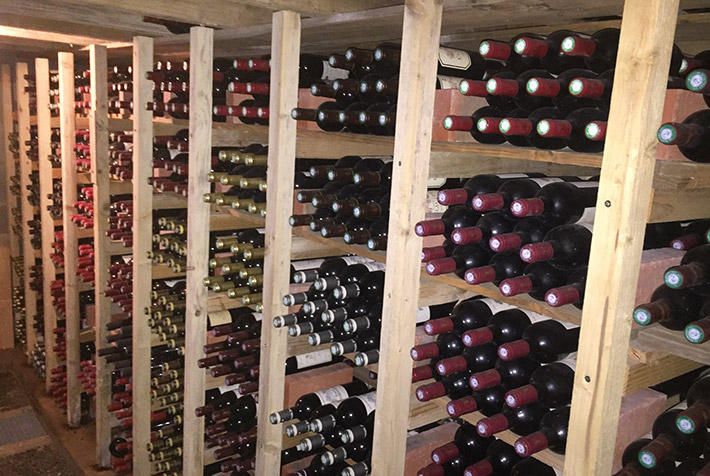 We mainly select wines for their ageing ability, they are stored  in a cellar outside Le Palmier in which proper conditions of conservation are combined (temperature and hygrometry).
Each year we enrich our wine cellar.
Thus, prestious appellations from Bordelais Bourgogne are available since mainly 2010 vintages : St Julien Margaux, Pauillac, Pommerol, Gevrey Chambertin, Nuits st Georges, Meursault Gewurtztraminer, St Joseph Chateau Neuf du Pape..
Non exhaustive list!!
Envie de réserver ?
Besoin d'informations ou de connaître les disponibilités ?
Contactez-nous +33 (0)6 60 42 31 71
• Domaine Orion at Chantonnay (22 km)

Our coup de cœur : a sparklink wine !
A wonder white wine Les Gorinères !
A friendly welcome
• Domaine Coirier (Pissotte) 
Typical wines and a very friendly welcome
• Domaine Saint Nicolas at Brem sur Mer (95 km)

Our coup de Coeur red wine Cuvée St Jacques
• Domaine Mercier at Vix (67 km)

Typical Vendée wines and some surprises like ablending of grape varieties  Chenin-Gewurztraminer
Do not miss this restaurant!